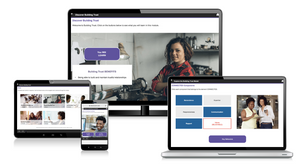 Building Trust - Overview (Online)
Self-paced, engaging online training teaches your people the skills to build trustful relationships in the workplace. 
Leveraging the latest in learning design and advanced technology, our online version of Building Trust is designed to introduce learners to the core concepts and skills needed to build and maintain trustful relationships.
Learners work their way through three modules composed of engaging microactivities ranging from 1 to 5 minutes each in length, requiring a total of 35 minutes to complete.
Building Trust Online takes your people through three modules that cover the essentials of how to build and maintain trusting relationships. The content is broken down into a variety of engaging videos, interactive exercises, case studies, and quizzes that range from 1 to 5 minutes each and can be completed in a total of 35 minutes.
The highly interactive experience includes:
•  The key concepts of Building Trust
•  The four elements of the Building Trust model and key behaviors of each
•  Practice applying the Building Trust model
•  Steps to restore trust