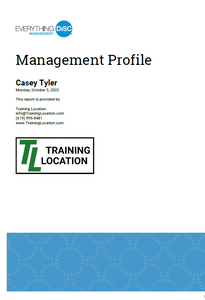 WS-221EDMP

Everything DiSC® Management - Profile (Online)

The Everything DiSC® Management Profile offers participants insight into their strengths and challenges as managers, and how to adapt their style to meet the needs of the people they manage—making them more effective managers. In this 27-page profile, participants will:
Discover their DiSC management style
Explore strategies for effective directing and delegating
Learn to create motivating environments
Deepen their ability to develop others based on each individual's potential
Improve their working relationship with their own manager
The Everything DiSC® Management Profile is designed to be used with the Everything DiSC Management Facilitation Materials.  25 EPIC Credits.
See Everything DiSC Management Introduction video