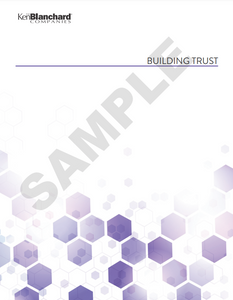 BT_PW

Building Trust - Participant Materials (Digital)

Successful and healthy workplaces are built on a foundation of trust. When work relationships are rooted in trust, companies see effective communication, greater innovation, and increased revenue overall.

But when trust is broken, the work environment becomes toxic. People become stressed and work in silos, there's low collaboration, and morale and productivity drop. If employees don't trust who they work with or their leader, they won't perform to their potential. This can result in costly turnover for your company.