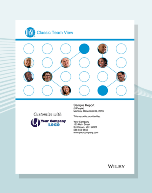 WS-800TVR

DiSC® Classic Team View Report (Online)

FREE!

The DiSC® Classic Team View report provides an at-a-glance comparison of existing learner profiles.  The report gathers data from participants who have responded to DiSC Classic 1.0, DiSC Classic 2.0, or DiSC PPSS on EPIC. It includes the individual's name, DiSC Graph III display, and Classical Pattern name.

The DiSC Team View report is available at no charge to help you understand your existing individual DISC profiles, so you can compare learner profiles in as many combinations as you'd like.