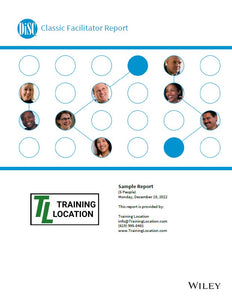 WS-801DFR

DiSC® Classic - Facilitator Report (Online)

The DiSC® Classic Facilitator Report lets you build customized group reports using data from DiSC Classic 1.0, DiSC Classic 2.0, and DiSC® PPSS on EPIC. The report includes an illustration of the group's distribution of DiSC styles, the group's Classical Pattern distribution, and detailed information on how each individual's DiSC style may affect the DiSC culture within the group or organization.

Requires 25 EPIC credits.