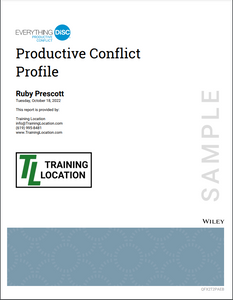 WS-401PC-P

Everything DiSC® Productive Conflict - Profile (Online)

Everything DiSC® Productive Conflict helps participants improve self-awareness around conflict behaviors.  Rather than focus on a step-by-step process for conflict resolution, Everything DiSC Productive Conflict provides participants with techniques to curb destructive behaviors and effectively respond to conflict situations.  The program features an exploration of DiSC® in a conflict context, provides an opportunity for participants to explore their destructive conflict responses, and offers them a method for making more productive choices in their response to conflict.

 
Participant Take-Aways

 Appreciate how their style of handling conflict affects the people around them
Learn how to "catch" themselves when going down a destructive conflict path
Learn how to reframe a conflict situation and choose more productive behaviors
Build a common language in the organization around appropriate conflict behavior
Everything DiSC® Productive Conflict Profile
The 22-page Everything DiSC® Productive Conflict Profile provides an in-depth, highly personalized report that highlights techniques to improve self-awareness around conflict behaviors. 
Customizable:  Online tailoring options make it easy to remove or rearrange pages, customize the Profile title, or print select sections.
Existing Data:  If learners have existing data from a previous DiSC® training, that data can be used with the Everything DiSC Productive Conflict Profile. 
Your DiSC Style in Conflict:  Participants explore their own DiSC styles and learn how to interact in conflict with people with different DiSC styles.
Destructive Responses:  Participants explore common destructive responses to conflict and why they and others might react this way. This valuable information can also relate to conflict in non-work settings.
Changing Your Response:  Participants practice stepping back from and reframing their unhealthy thought patterns, allowing them to choose more productive responses to conflict.
In the 22-page profile, participants will explore the destructive and productive conflict behaviors of each DiSC® style, learn how to manage their responses to conflict situations, and gain personalized communication strategies when engaging in productive conflict with colleagues.  20 EPIC Credits
Introduction to Everything DiSC® Productive Conflict video
See how automatic thoughts impact your response to conflict
See sample Everything DiSC® Productive Conflict Profile
Watch the video to learn how a Carpenters Union uses Everything DiSC® Productive Conflict to better the lives and workplace culture of their members!